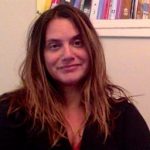 Associate Librarian
310M Scott Library, York University Libraries
Email: lisasl@yorku.ca
Tel: +1-416-736-2100 ext. 20072
Lisa Sloniowski has several roles at  York University. As the English Literature Liaison Librarian at York University Libraries she builds literary collections and offers research instruction and consultations to faculty and students in the Department of English Language and Literature. She has a particular interest in Special Collections and has been instrumental in York Libraries' acquisition of several important literary collections. She is a member of the Libraries' Humanities Cluster.
As the Research Mentor Librarian, a pilot program for 2018-2020, Lisa is responsible for enhancing the research culture of York University Libraries, with a focus on building mentorship programs which support emerging research skills and programs. She is also involved in advocacy work in support of librarian and archivist research contributions. She is a member of the Open Scholarship department.
Lisa is also a faculty member in the Graduate Program in English Literature at York, and a PhD Candidate in York's Social and Political Thought program.
Her research examines the affective labour of librarians as knowledge and memory workers, from a feminist perspective. Her current work explores the specific archival challenges posed by two special collections: the Barbara Godard library, and an archival collection of feminist pornography. She also peer reviews for a number of journals and is currently an editorial board member of the journal Porn Studies, as well as the Canadian Journal of Academic Librarianship.
She holds a Bachelor of Arts (Hons.) from Queen's University in English literature, a Masters of Arts in English Literature from York University, and a Masters of Information Studies from the University of Toronto.
A list of selected publications may be found here.  Recent conference presentations are listed here.